Want to have your own web space? Are you an aspiring business owner who wants to do marketing online? Do you want to have a blog of your own and turn it into a freelancing business? Then it's very easy to create a website of your own!
No need to hire a web developer or learn how to code. With website builders online, you can get everything you need in building a website. It's definitely a cool all-in-one platform.
Here are all the things you need to have when it comes to website creation.
Website Builder
A website builder is a tool that guides you step by step in creating a website from start to finish. This is the perfect software to use for website beginners and for those who don't know how to code or program.
With a website builder, you can create a professional website easily without any help from website developers.
There are a lot of website builder softwares out there and you can try each one of them for free first. Among all of them, I highly recommend the hPage.com free website builder for the following reasons:
Affordable. You can build a free website or purchase a monthly plan for a measly price of $6.

Business features. Add extra features on your site such as commenting, blogging tools, audit log for multiple website managers or site editors, website backup, contact forms, and more.

Premium designs. There are hundreds of website templates to choose from. No need to hire a website designer to create a design for your site.
Once you sign up on a website builder, you can already buy your domain name there and ensure your website hosting. There are also site templates available and other extra features so you don't have to look at any other tool and purchase.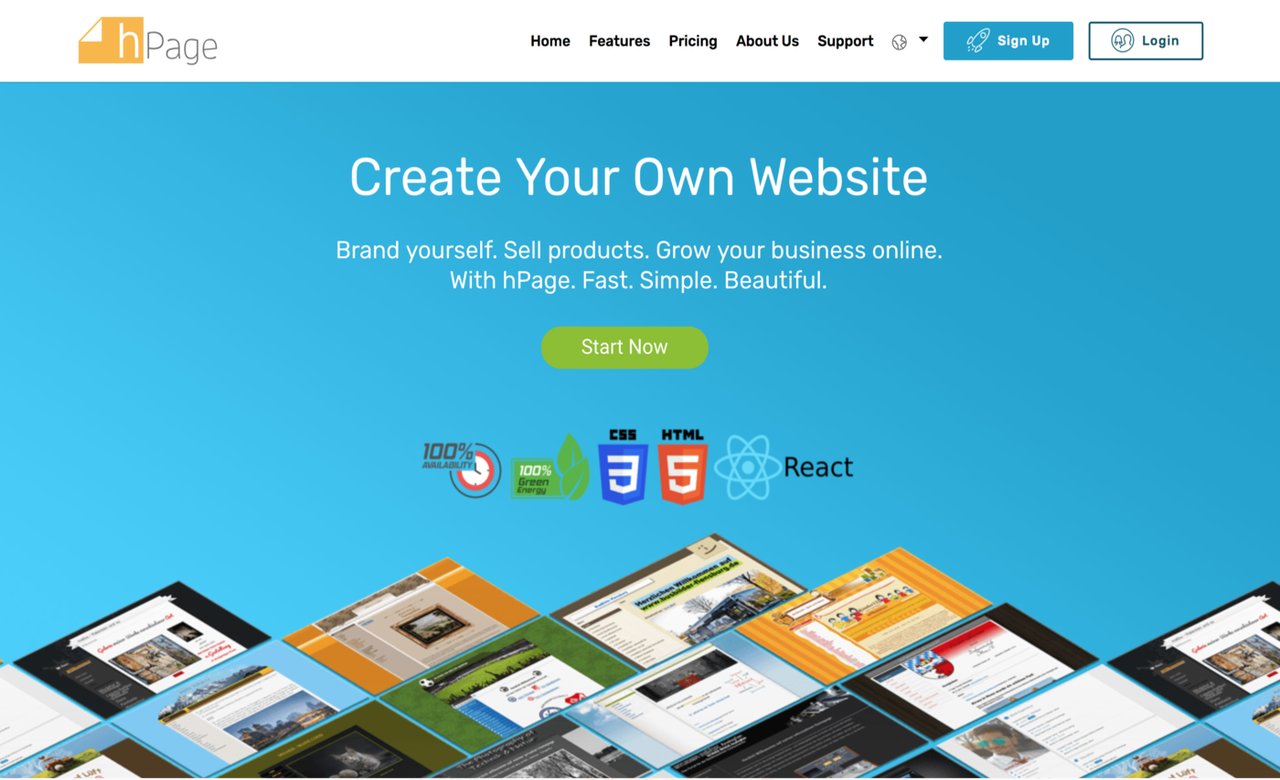 Domain Name
A domain name is your digital address online so people can find you on the web. The domain name could be your business name if it's not yet taken.
If you already have a business name ready, you have to register your domain name right away at a domain name provider. Many businesses around the world may have the same business name as yours and some of them might not have a website yet.
Get that domain name first and foremost before another business with the same name as yours decide that they need a website too. Otherwise, you would have to settle for the next best domain name that may not full encapsulate what your business is all about.
The most common domain ending is .com. However, if you plan on settling for a free website with a website builder, the ending of your site will have the domain name of the website builder.
Website Design
If you decide to have your website done using a website builder, you can eliminate the need for a website designer. Site builders offer hundreds of design templates which you can choose from. These templates are sorted in a catalog along with their proper tags and topics so you can easily find a design that is suited to your niche.
Website templates that are already installed in website builders are also customizable to your liking so you can choose colors and input images that are associated with your brand.
Logo Design
Your business should have a unique logo of its own and should be placed somewhere on the website. It makes users who visit your website, remember your business better.
Your logo is also a part of your website branding so be sure to place it as a header.
Website Content
Your website content is what you want to put in your website. It could be articles, videos, photos, music, and other types of files and additional features you want your user to see.
Your website content should have the following essential information:
About Page

Store Hours (if you have a brick and mortar store)

Contact details

Products/Services Page

Homepage (Where an overview of features or links should be seen)

Call-to-action button (placed on the homepage)
With a website, anyone can jumpstart a business whether it be online or offline. It can aid you in marketing your service or product so be sure to start a website today!